When you view the Tribesigns modern desk in pictures, it looks absolutely massive.
Don't be fooled by the pictures though. This modern, sleek L-shaped desk is relatively small and has no trouble fitting into most room or office setups.
The Tribesigns Modern L-Shaped Desk Corner Computer Desk is a pretty solid-looking desk made of durable materials.
It's really cheap for a desk with this kind of design, and it is really versatile as well.
The big question is:
While the Tribesigns desk is promoted as an office desk, how does it hold up as a gaming desk?
Important design note
There are six different color options to choose from.


All black, both teak (the material the desk is made of) and legs. This is the most popular color choice among clients because it looks good, regardless of the environment. The only drawback is that it's quite standard and lacks individuality.


Dark teak and black legs. Many managers would incorporate that gorgeous color combination into their offices. The strong dark teak color expresses seriousness and intelligence.


Teak and black legs. This is similar to the one above, with the only difference being that the teak color is softer. This is the standard desk you'd find in offices being used by workers, not managers. Also, it's a desk that fits almost any interior design at home very well.


Desk with a walnut color and white legs. This combination is very good for soft interior designs.


White + black legs. This is such a nice color option. Nothing more to say! You can put this desk practically anywhere, and it will look great.


All white. Be careful with this one! Make sure that your colors at home are well-balanced or this desk will not look good.
Our favorite option among all of the six is the dark teak with black legs combination. We aren't big fans of white because equipment of this color tends to deteriorate faster if not maintained properly and cleaned regularly.
The Tribesigns desk is 28.9" tall. That's a regular size meant for an adult.
If your kid happens to want to use this desk, but they are not tall enough, then we recommend you purchase a good office or gaming chair. That way they can comfortably use this modern L-shaped table.
The desk features a foot rest and creative bevel angle design. There's a steel bar just in front of your feet, which you can position on this bar if you ever feel tired of staying in the same position for hours. Also, the desk has some interesting angles that make it eye-catching.
If you need to position your PC in a safe and comfortable location, then you'll have a free stand available so that your CPU doesn't get dirty because of contact with the floor. This will also protect the floor itself.
Although the desk is quite spacious and might seem heavy, it just weighs about 66 lbs. Most gaming chairs weigh about the same. The desk doesn't have wheels for you to move it around like a chair though, but this is also a positive aspect because wheels easily get dirty and are more noticeable on a desk.
We believe that the biggest, and maybe only, drawback of the Tribesigns desk is that there are not any holes to put the cables through. Check the design out:

This is a bit annoying because some of us might have very complex workstations with a bunch of cables that need the best possible management so we don't go crazy.
Tribesigns Modern L-Shaped Desk:
Further thoughts
One thing that comes free with this Tribesigns desk that we no longer see a lot of desks come with, is a desktop tower stand. This can tremendously help protect your computer by keeping it cool and dust-free compared to any ground-based placement.
The legs are really thick and made purely of steel, so this desk is incredibly durable and easy to rely on. It'll withstand quite of bit of weight without wobbling. The desk can endure up to 450 lbs, by the way.
The framework of the surface is also excellently crafted by inner working steel frames, such that the legs are not only supporting the desk but also the undercarriage of the desk, which is great.
Coming with a cut off L-shaped design that is smooth even though it is not rounded, the Tribesigns desk doesn't feature any sharp edges like some other desks.
There is a large surface area, giving you plenty of room to set up your PC or gaming console while still keeping everything easy to reach.
Tribesigns Modern L-Shaped PC Desk
After introducing the main features that a Tribesigns desk can offer, let's take a better look at what the pros and cons are. Below, you'll find a summary.
Pros

The large size of this Tribesigns modern desk will give you plenty of wiggle room and working space, especially on the surface, which makes this a great home office desk that doubles up as a gaming desk that you can put more than one monitor on.


These Tribesigns desks come with 18 months of quality assurance.


The assembly comes with a buckle design, which makes it easy to assemble and easy to move around if need be; all the tools and instructions for the desk are already included in the package.


The sturdy frame holds more weight than what we're used to seeing, and the overall framework is superbly finished, so we put a lot of trust into the reliability of this gaming desk.


There are no sharp edges or unpleasant corners on this Tribesigns modern desk, as the woodwork has been polished and sanded down to prevent any splinters or nasty surprises when you hit the edge of the desk.


There is plenty of room on either section if you are using multiple monitors for your setup.
Cons

Tribesigns desks do run out of stock quite a bit due to popular demand.


We wish there was a hole on top of the Tribesigns desk to put the cables through so they stay organized instead of being an eyesore.
What to Watch Out For
Also, keep in mind that the sides of this Tribesigns desk are reversible.
One side is longer than the other, so just reverse the assembly instructions, and you can place the shorter side wherever you want to make sure it fits perfectly into your space.
Assembly of the Tribesigns desk is very easy. The instructions are not incredibly detailed, but they are easy to read. They also show you exactly how each step of the set up should look, and all the parts are numbered.
With two people at hand, you can easily get this done in less than an hour. There are no special tools required, and there is no need to drill any holes.
What about disassembling the Tribesigns modern desk?
If you need to move it to another room or you are moving to another house, then with the same tools you used to put it together, it will easily come apart. Just make sure you save the instructions so you can put the desk back together again.
Something we want to recommend is for you not to go too harsh on the screws with your screwdriver.
Otherwise, you might scratch or break the screw head, and then it'll be too difficult to pull them back out when you want to disassemble the desk.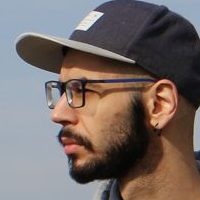 Latest posts by Xander (Editor-in-Chief)
(see all)