Today we are taking a look at a very cool computer/gaming desk by Z-Line Designs.
This is not your average looking computer desk. The L shaped, two-tier design is great for anyone who needs multiple monitors, or for multitasking between business and pleasure.
It seems to have just a little bit of everything.
With a shape and look like this, the desk can be used for either a home or work environment.
It is going to look great wherever you put it. The beauty has plenty of surface area for all of your work and gaming related needs, probably with room left even after that.
You could actually even have two people working comfortably at the same desk if needed.
In this article review, we will break down the different features of this desk, and why it is at the top of its class when it comes to this price range. If you have been looking to upgrade your computer desk, to match your gaming chair or just re-arrange your work space: then now is the time.
Keep reading and you will find out more about the Z line jewel.
First impressions
When first taking a look at the Z Line Belaire glass L shaped computer desk, one thing immediately comes to mind. This desk is definitely designed to be in a corner of the room. Granted, with plenty of space, you could also make this the focal point of an office. It just depends on how much space you have available.


We noticed that they have added a great little bonus to this desk, at first glance. The outer edges of the desk are curved, which makes it so much easier on your walls. This is going to keep the desk from banging or scratching anything. It is a nice little touch from Z-Line.


Assembly couldn't have been easier. The 60" x 24" x 37" Z Line desk comes in an easy to handle box, has all of the necessary tools and pieces to put it together, and the instructions are very clear and well-illustrated.


The Z Line desk itself looks fantastic. The frame is made of glossy powder black metal with extra strong welds on the joints. It not only looks sleek but is also very sturdy. The glass top and tiers give the desk a very clean look and is tempered to keep it from easily becoming damaged. This Z Line computer desk came together very quickly and easily.
Pros



We always like to see a product that comes with a manufacturer's warranty. This desk comes with a limited lifetime warranty, pretty standard, and you will be covered for anything that would be deemed a defect by the manufacturer. It is always nice to have a bit of extra protection for your purchases. You just never know when something is going to happen, so you will hopefully be covered if anything does.


As we noted above, putting this Z Line desk together was a breeze. It came with some of the most detailed, and easy to understand instructions we have seen. It couldn't have been any easier to get this beauty put together and into commission.

Anyone who has put this type of product together in the past knows that this isn't always the case. So, kudos to Z-Line for the great instructions.


This desk is very sturdy and durable. Some work and gaming setups can include some fairly heavy items. We like that they took this into consideration when designing the frame.

Having the joints welded with reinforced steel really adds an extra layer of protection here. It honestly feels like the rest of the z line computer desk would break before the frame ever thought of giving up.


For those taller consumers, there are slightly larger pegs on the base of the frame. This gives you just a little bit extra breathing room for you to stretch out your legs. These pegs also serve another purpose. It makes this Z Line computer desk much easier to move around, by putting something non-slip under it and just dragging to the desired location.


The glass itself is also incredibly reliable and sturdy. The workspace is either 5mm or 6mm tempered safety glass, depending on which tier, and is made to take some punishment. It can withstand a lot of force before breaking, and not the kind of force it would get from regular everyday use.


Z-Line Designs have thought about all of our left handed friends. The separate monitor shelf can be moved to either the left or right position. This is just a small design feature that shows they were really thinking about the consumer.
Cons

As with any glass topped desk… it is made of glass. This means there is nothing you can do about it getting covered with fingerprints, and who knows what else. It is, thankfully, very easy to clean. Just makes sure you keep some paper towels and glass cleaner handy if you want to keep it looking pristine.


In all honesty, the Z Line desk did seem to look bigger in the pictures. This wasn't such a big deal to us, as the desk is the same measurements as advertised. We were just expecting a bit more, considering how this desk looks in its pictures.


They could have added some sort storage space in this desk. We would have liked to see some shelving, or even drawers, as this is pretty important if you are using this for the office. The average gamer will not care as much about this, so we may be a little biased here.


There is also no way to hide the mess of cables that will most likely be everywhere. This is a design flaw with having glass on any desk, but it is still something to consider.
Overall impression of the Z Line Belaire
We have found a lot to like about this low-to-medium cost, high quality desk. The sleek design of the Z line is the first thing that will grab you. It just looks good.
You can have this desk in just about any interior space and make it work. That's the great thing about glass surfaces, they go with mostly everything.
The most important part of a desk in the segment is durability and reliability. We have all purchased products that are advertised as wonderful, only to get them home and have them wear out way too fast. The Z Line Belaire glass computer desk actually proves its advertising claims are true.
It is not made of cheap particle board that many others at this price range are.
With the sturdy, welded, metal frame highlighted by a tempered glass top, this desk can take a beating. There isn't a computer monitor or printer around that would pose a risk for this structure collapsing. This is a very sturdy desk and we are very pleased with how well it holds up.
If you were to buy a comparably priced desk, it will most likely not offer this kind of support. The particle board dents and breaks easily and is not known to stand the test of time. They make those desks to be replaceable, which is not the case with this offering from Z-Line Designs.
If you are one of those consumers who normally pays the extra fee to have stuff assembled for you, this desk is going to make you very happy.
There is absolutely nothing over complicated about the instructions or assembly. Everything is illustrated and worded for simple comprehension, and you would be hard pressed to find someone who would struggle to put this Z Line desk together.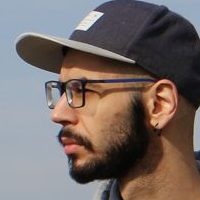 Latest posts by Xander (Editor-in-Chief)
(see all)