The Ficmax gaming table which comes in all black color scheme is a gamer's budget desk with a modern Z shape design that promises to provide a unique and ergonomic design that can adapt to any kind of environment.
The Ficmax gaming table might be designed to appeal to gamers the most, but even at its edgiest angles, it can't hide the fact that it is an incredibly good everyday desk.
While the incredibly futuristic visual designs are easy to look beyond, they aren't easy to forget about. Some of the best features of Ficmax gaming table rely heavily on its bleeding edge design. While there's quite a lot to love, we've also got a few things on our list that we weren't too crazy about.
One of these things is Ficmax's incredibly aggressive approach to brand marketing. We understand that in a competitive environment, brand visibility is an important factor.
But when this desk's parked in my room? It's going to earn me a few odd looks from visitors, at most.
Luckily enough, it's easy to hide some of the more obnoxious logos, but at the price of losing some of the nicer display angles of what is a very cool desk.
While we don't see this kind of ultimate gaming table holding up well in an office environment due to its overall design which is catered towards gamers, it seems like a relatively solid built desk.
From a technical standpoint, this desk seems to have been built for functionality and not so much for looks. Another great product from ficmax is the gaming chair which goes perfectly with this gaming table. LED lights give it a pretty cool effect that adds to the appeal.
I'm rather fond of the little touches that are on this table. Even though the underneath of the Ficmax gaming table isn't going to get a whole lot of attention, it's still refined and speaks of quality.
There are some nifty cable management options that can be found under the desk, including a sneaky USB power line that makes it easy to charge certain peripherals or your smartphone. Disappointingly, this desk also comes with some very large drawbacks.
The smaller of the two main drawbacks is the advertised "holster" towards the back of the desk. It's useless, there's simply no other way to put it. I'm not sure if Ficmax intended for it to be used as some sort of net pouch for your gear and tidbits or as a pointless flap to print a large, ugly logo upon. The second is that this ultimate gaming table is somewhat of a rolling nightmare to set up.
Nowhere is it mentioned that you'd need to guess the locations of the screw holes and then drill them. There isn't even a basic marking, never mind a pre-drilled hole.
The included "manual" isn't much more than a drawing and a few basic notes on fitting the USB power system and table feet. While we'd managed to pull through, simply because we're experienced with this sort of thing, we can imagine how frustrating this would be for the average buyer. It really is quite the shame on Ficmax's part.
What makes it the ultimate gaming table? Read on to find out how we rate it!
Some cool things about the Ficmax desk
The gaming table isn't that large and only comes in at 48 inches by 25 inches on the surface top and 29 inches in height. It's more than adequate enough to support most gaming needs, even for the serious gamer.
Has Z-shape modern design which is practical, ergonomic and allows for space, because it's not nearly as large as some of the other desks we've reviewed.


A completely stable steel rod support frame provides plenty of support for load balancing and a hardened wooden finish which is scratch resistant is great for the average gamer.


This is a very popular desk among people who use laptops and desktops due to how easy it is to set everything up and the overall height of the desk which is optimally raised for monitor viewing level.


Incredibly easy to set up and install straight out of the box, with no complicated instructions, no extra tools necessary and all the instructions included in the packaging.


Unique high-definition LED lighting is included with this package that you can set up to display how you want and it adds a unique glow to your gaming space.
Pros

The overall design of this Ficmax gaming table is a completely ergonomic design which is designed for healthy posture and optimal monitor viewing levels, so you won't have to strain your neck to view the game or watch a movie.


Commercial grade materials ensure durability and optimal longevity of this desk, so you won't have to worry about this dusk crumbling under your care or getting a new desk for quite a long time.


Comes in a small dimension which allows you to store it anywhere in the room with adequate spacing and it's easy to store when you're moving or don't want the desk in the way.


The support structure is highly durable and made with a very resilient steel rod frame that can support a ton of weight.


Installation only takes a few minutes and there are not many pieces to put together, which are instructed step by step in the details you get with the packaging
Cons

To set up the LED lights, you will need to drill your own holes and install them the hard way but it's relatively easy to do and isn't a big deal
What to Watch Out For
We do have to advise people that if they have very delicate wood flooring with a nice finish, you may want to put some type of flooring underneath this desk because this thing isn't very good under wood flooring that's been finished with a fine coat. We're not saying this won't work but if you move it around, it will scratch that type of flooring.

Assembling the table can be a bit of a challenge. Make sure you read the instructions well before you get started as it is not intuitive putting it together. For example, you may need to drill some holes to mount the LED lights. As of the time of this writing, there were no pre-drilled holes.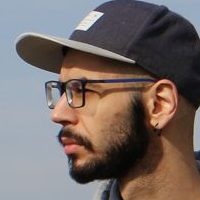 Latest posts by Xander (Editor-in-Chief)
(see all)