The Officemaster OM5 is a one of a kind chair. From the art déco stye to the seat that reclines automatically, the beauty of the OM5 gaming chair lies in the casual way that it addresses stress-related issues by providing comfort.
Officemaster chairs are designed to be simple and elegant.
Yet, there is some resemblance to the Herman-Miller Aeron. The main difference between the Aeron and the OM5 is that the latter does away with the manual adjustment levers and instead uses an automatic system that can adjust itself based on your posture and movements.
With the series starting at a rather heavy price (check it here), the truth is the chair still costs far under the rest of the competition. The price can go up by a bit, depending on the frame and upholstery that you opt for.
In this way, the OM5 chair gives you the adjustment options provided by Aeron, this time without needing all those levers and paddles.
The result is a chair which provides plenty of comfort and healthy posture without requiring so many user adjustments. All gaming chairs have a special design for a specific target; however, keep in mind that an OM5 supports the idea of office employees having the utmost comfort while working.
So we could say the Officemaster OM5 is a gaming chair and an office chair. In this review, you'll see all features you can find in this product and how you can adjust it, along with its positive and negative aspects.
What to expect from the OM5 chair
Most features of an OM5 gaming chair are superb, and in this review, we'll look at all of those details. However, you might want to consider a few drawbacks.
Starting with the positive aspects of an OM5, you'll find that its seat cushion material is just great. The seat adapts well to your weight and gives you enough comfort to endure long gaming sessions without your bottom part hurting.
This is good to know because there are many chairs out with a seat cushion that is too soft. A soft seat cushion might seem appealing at first, but when it is softer than it should be, it just makes the experience unbearable.
The most popular color for the seat cushion is orange. However, it comes in different colors that are available upon request.
The backrest adds special meaning to the gamer because it's ergonomic. Once you recline, you can expect not only the backrest to move alongside but also the seat. That's a fantastic characteristic of the OM5 chair because most chairs only allow the backrest to move, which doesn't allow for much comfort.
Now let's talk about one negative aspect as regards to the backrest design, and it's that it looks cheap. Yes, you'll see the OM5's back slats, and you would most likely compare them with those plastic white chairs you have at your backyard for family meetings.
An important to keep in mind that even though it looks inexpensive, this doesn't reduce the Officemaster OM5 gaming chair performance. It doesn't seem uncomfortable or cheap. However, when it comes to looks and considering the price range, you'd expect a more attractive back slats design.
Review: Officemaster OM5 Chair
The chair weighs up to 64 pounds. That is quite heavy for a gaming chair, but in reality, it wouldn't be an issue because you'd typically have your OM5 gaming chair in a fixed position. Also, Officemaster chairs, such as this one, can endure up to 300 pounds of weight.
An interesting feature of the cushion seat that not many chairs have is that you can roll the edge up and down. That way, you can give more support to your thighs because the chair's adaptability allows it. You might believe that this feature is kind of silly, but several customers appreciate it, and we believe that you would as well.
A drawback that you might want to bear in mind is that even though the arms are adjustable, they are not flexible enough for all gamers. Of course, this is for the arms that come with the OM5 gaming chair by default. If you feel dissatisfied, you can buy arms that are more flexible.
The only problem with buying a different type of arm is that the overall price for the chair will be much higher, even up to $100 more. I'm not saying that the arms that come by default are terrible, but keep in mind that their flexibility isn't the best.
In short, the OM5 is a comfortable chair with great features and some minor details to keep in mind. The biggest drawback would be the arms, but to be honest, do we really need the arms at all? We're pretty sure that for anyone who plays games or does anything else on their computers, they'll depend more on the desk to rest their arms and hands on than on their chair arms.
One last detail to mention is that this chair comes with a lifetime warranty. So that just gives you a pretty solid idea of how durable this OM5 gaming chair is. Gamers worldwide report excellent customer support that is fast and reliable, so if anything goes wrong with your OM5 chair, you can return it or ask for solutions.
Pros
●+Adaptability: Officemaster chairs feature only one lever which controls only the chair's height. You can control the reclining system automatically based on your body movements. A pair of rollers—one under the seat and the other behind the backrest—provides a smooth and weighted transition to the positions you require.
●+Comfort: The soft fabric that covers the basic version of this product comes in several color schemes and is very comfortable. When you touch the fabric, you get the feel of a fancy sofa. The backrest features a firm base made of polymer, and padding is a bit wanting, but it's got a nice springiness to it. With a little extra cash, you can opt for a fabric upholstered backrest. In either case, the backrest always features a breathable structure or material.
●+Build: The OM5 looks beautiful in the simplest sense of the word. The lines of the frame and the palettes of the upholstery gently blend into each other to create something which looks like fine art. The default frame is mainly made of polymer with a metal base. This base is light and sturdy. You can operate the rollers and the other mobile parts of the chair quietly and smoothly.
●+Features: The highlight is its automatic adjustment system. The chair adapts to your body in a way that gives support and comfort, whatever position you're in. If you lean back and simultaneously push your legs forward, the chair will recline, and the seat would be automatically adjusted. The armrests feature little paddles which makes them adjustable using a basic 4D scheme.
●+Accessories: The Officemaster OM5 offers you options to select fabric, leather, or polymer material. With the material comes a wide selection of colors and color combinations. You can also choose from a large number of bases, frames, and headrests, and you could add a nifty coat rack and arm pads.
Cons
●–Adaptability: Many people might find the auto-adjustment of the OM5 disconcerting to because it's a very different system compared to regular office chairs. Also, the chair arms might not be flexible enough for many people.
●–Comfort: Sometimes, just trying to extend your legs will cause the Officemaster chairs to recline automatically, and this can take surprise you. You need some time to get used to this feature. Some users might prefer the Herman-Miller Aeron instead since it has a lever.
Conclusion
As you could see in this review, these Officemaster chairs have a few formidable features that makes them worth buying. As mentioned previously, there are details that you would want to know before making up your mind.
On a tight budget, this is, of course, not the best chair to acquire. However, if you're a gamer who recognizes how important comfort is, then a proper gaming chair, such as the OM5, is worth every single penny because with it, you can avoid gaming sessions where your back would start killing you and asking you to stop doing whatever it is that you're doing.
Officemaster chairs respect all ergonomic rules. With the OM5, you can find a design where you can adjust the backrest, headrest, arms, seat, and the chair height. All of these features are of tremendous importance to guarantee comfort.
Some customers might find the auto-reclining feature an annoyance. However, this isn't a feature that the company designed in order to make life harder. It's the other way around; it's just that now, with all modern stuff showing up on a regular basis, it's difficult to get used to new things that are, in reality, more practical. The same happens with headphones that are now wireless; it's just a more practical feature that used to bother many customers until they tried it.
However, if the auto-reclining feature the OM5 has does not convince you, then please check out the Herman-Miller Aeron , which has a lever included so you can recline it by pushing it forward or backward.
Finally, just as a piece of advice, when it comes to respecting the ergonomic rules for a chair, we want to recommend that you keep your hips slightly above your knees when sitting on these Officemaster chairs. Also, keep some distance from the monitor so that it does not affect your eyes. Preferably, you'd want your eyes to be in front on the monitor or slightly facing down. As the OM5 is an ergonomic chair, you can adjust it the best way possible for you.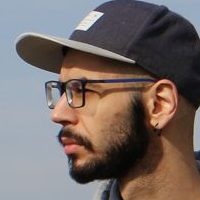 Latest posts by Xander (Editor-in-Chief)
(see all)