Gamers know that console gaming and PC gaming is totally different. You game in different locations, you play different kinds of games, and you probably even play with different types of people. So to think that with video gaming chairs it's a "one size fit all," is kind of crazy. The chairs we have reviewed so far are great for all around gaming. Here, we want to highlight three that are particularly nice for playing an Xbox One or Xbox 360.
Playseat Challenge Gaming Chair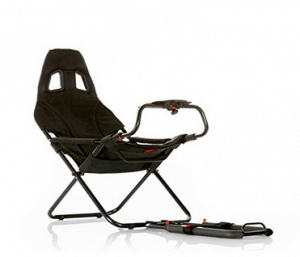 Let's start with the one that's the most unique. This isn't a chair that you would likely use for most of your games, unless you own a ton of racing games. However, if you are into driving games, this chair is phenomenal.
You don't find many chairs that cater to a super-specific audience like this one does, but really, if you want to feel immersed in a racing game, you kind of have to do something a little different from other chairs.
This chair makes you feel like a real NASCAR driver. It's designed to look like a high-performance car seat, and when you sit down into it, you feel like you're behind the wheel. The design lets your bottom sink lower than your knees, and the back reclines a bit.
It's also designed to work with any steering wheel and pedal set. A desk-like platform extends across your lap, and a second piece attaches to the legs for the pedals. It's compatible with "Xbox One, Xbox 360, PlayStation 3, Wii U, Wii, PlayStation 4."
What we liked:
You feel like a real driver
Ergonomic design is intuitive and comfortable
Easily foldable for saving space
What we didn't like:
No built-in speakers
X Rocker 0717901 Triple Flip 2.1 Storage Ottoman Sound Chair with Arms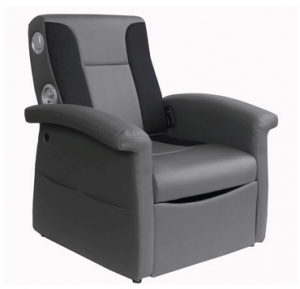 Where do you usually keep your Xbox? Not at your desk, right, but in your living room. But if you want a gaming chair, do you have to have a crazy-looking chair that draws attention to the fact that all you want to do is sit around and play video games? It seems like you can either have a nice gaming chair, or a chair that looks like it belongs in your living room, but X Rocker wants you to have both.
This chair looks just like a regular chair anyone might have in their living room, but it provides you with an awesome gaming experience at the same time. It has nice armrests, and a storage compartment beneath it. That's another really nice feature that you don't often find in gaming chairs. It's big enough to store your controllers, some extra battery packs, and wires. Or, if you'd rather, you could store some snacks and drinks so you don't have to keep running to the kitchen in the middle of your gaming session.
It gets even better. This chair comes with two built in speakers and a subwoofer. The audio quality is excellent, and because of its design, it's not as totally relegated to gaming like some others seem. Your spouse or kids could be just as happy and comfortable watching TV or movies in this as well. And if you have neighbors or friends come over, they won't make fun of you for gaming if you let them sit in this chair just one time and experience the awesomeness for themselves.
What we liked:
Unique storage compartment
Unique, stylish design
Subwoofer included
What we didn't like:
Can't tilt or rock as easily as other gaming chairs
Gioteck RC-3 Foldable Gaming Chair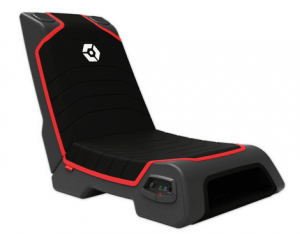 Our favorite part about the X Rocker Triple Flip is the storage space. For a little less money, you can get the Gioteck RC-3, which also comes with some storage space. It doesn't look quite as nice as the X Rocker, but it has a small mesh pocket on one side for small accessories, one on the back to hold on to your current issue of Game Informer, and a open box space on the bottom for controllers.
This chair doesn't look like it blends in with your living room, but it does look cool. It's color scheme fits the usual gamer preferences: black, red, and gray. It comes with two speakers by the headrest, and a volume control panel on the side. Not the fanciest chair, but good for the price.
What we liked:
Cool color scheme
Storage space
What we didn't like:
Seat space might be small for people who are bigger than average
(Image Source – Amazon.com)