Shroud is a gaming streamer with a massive fanbase. And being one of the most widely-acclaimed gaming streamers in the world, it's no surprise that everyone wants to know what gear he uses. So, if you're curious about the monitor he uses in his streams, continue reading to find out!
Short Answer
Shroud uses the Alienware AW2721D 27'' monitor.
He has updated his rig several times before, but this is the one he's currently using in his early 2022 streams.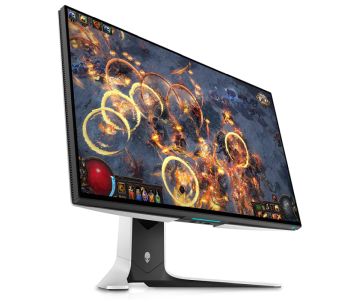 AlienWare 2721D 27''

High class 240 Hz monitor with G-Sync Ultimate, QHD & IPS Nano Color.
A Little Bit About Shroud
Shroud is a Polish-Canadian streamer who's well-known in the gaming community for his gaming streams. He's celebrated for his precise aiming capabilities. He's also a versatile player who can find unique solutions and adapt well to the game.
Moreover, Shroud started in the professional gaming industry in the early 2010s by being a part of multiple ESEA teams in CS:GO. Then, he joined CompLexity (Cloud9) in 2014. Now, he's a full-time streamer with a YouTube channel with 6.82 million subscribers as of September 2021.
Shroud's Monitor: Key Features
So, what makes the Alienware 27" monitor stand out from the crowd?
Well, for starters, this monitor flaunts a 240Hz refresh rate. Such a high refresh can make a world of difference in fast-paced games like CS:GO and other FPS games.
On top of that, it has a 1ms response time, ensuring that input lag is kept to a minimum. So, whenever you need to destroy your enemy before they get you, you won't have to worry about the monitor processing your commands slowly.
And the Alienware AW2721D supports NVIDIA's G-Sync technology, which matches the display's refresh rate to the GPU, so you don't have to worry about display stutter, screen tearing, or input lag.
We also like that it comes with an adjustable stand, enabling you to pivot and tilt the display to your liking. Not to mention, the stand slides under the keyboard for maximum space-saving.
Additionally, the monitor integrates the AlienFX lighting system. It's customizable, with full RGB values and dynamic light effects that change based on the game's happening. And if you have other AlienFX devices, you can match them with your monitor to create your very own gaming atmosphere.
As for ports, the Alienware AW2721D 27" is equipped with the following:
2x HDMI 2.0 port
2x SuperSpeed USB 3.2 Gen 1 (5 Gbps) with power charging (downstream)
Headphone-out jack
Audio line out jack
DisplayPort 1.4
2x SuperSpeed USB 3.2 Gen 1 (5 Gbps) (upstream)
Power connector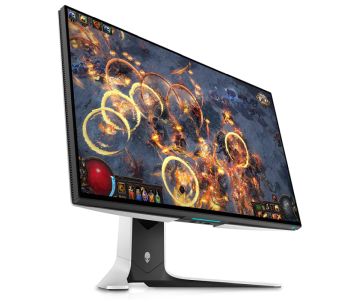 AlienWare 2721D 27''

High class 240 Hz monitor with G-Sync Ultimate, QHD & IPS Nano Color.
Why Doesn't Shroud Use a 4K Monitor?
You might be wondering why Shroud has settled for a 1080p display instead of a 4K or even 2.5K one. Well, the answer is pretty straightforward: any monitor with a resolution that's higher than 1080p won't have a 240Hz refresh rate. And the screen refresh rate can make a huge difference in your performance as a pro gamer.
Alternative Monitors
The Alienware AW2721D 27" monitor is definitely exceptional, but that doesn't mean you can't find other monitors that offer the same features.
Here are two of the best alternatives:
Samsung Odyssey G7
The Samsung Odyssey G7 is available in two size options: 27" and 32". It has many of the bells and whistles of the Alienware monitor at a slightly lower price. Its refresh rate is 240Hz, and it supports NVIDIA G-Sync and AMD FreeSync, so you can get a smooth performance no matter what your GPU is.
Not to mention, the Odyssey boasts a curved display, which may or may not appeal to you. It engages you into the game a bit more than flat ones, but it may take a while for you to get used to it.
What's more, the G7 supports HDR10, providing vibrant colors, superb contrast, and unmatched deep blacks. The stand is quite similar to the one on the Alienware 27" too. Other features include QHD resolution, 1ms response time, and game mode.
ViewSonic ELITE XG270
The ViewSonic ELITE XG270 is yet another 240Hz 1080p monitor offered at a fraction of the price that the Alienware 27" currently stands at. In addition, it supports NVIDIA G-Sync and has a low input lag with a 1ms response time.
Additionally, the ELITE XG270 flaunts top-notch viewing angles, thanks to the IPS technology. We also like the innovative stand with its brushed metal base that slides under your keyboard for the best ergonomics. And, of course, you can tilt or pivot the display.
Other notable perks include a headphone hook, 2 mouse anchors, and HDR10. It's also worth mentioning that the XG270 comes in multiple configurations, which include:
27-inch 240Hz
24-inch 144Hz
27-inch 144Hz
27-inch 165Hz
27-inch curved 165Hz
Additionally, the setup that resembles Shroud's monitor the most would be the 27-inch 240Hz one, but you can always try something different if you want to. We especially like the 27-inch curved 165Hz variant because it's pretty immersive. The 24-inch model is also worth looking at for those who have limited space on their desk.
Other Components That Shroud Uses
Along with his Alienware 27" monitor, Shroud uses the following gear:
G Pro X Superlight mouse
Logitech G Pro X keyboard
Logitech G Pro X headset
Shure SM7B mic
RODE PSA1 Swivel microphone mount
Logitech G840 XL mouse pad
Sony Alpha a6000 camera
Herman Miller Embody chair
MAINGEAR Vybe 2 case
ROG Strix X570-I Gaming motherboard
AMD Ryzen 9 5950X processor
EVGA Geforce RTX 3090 graphics card
64GB HyperX Predator RAM
Final Words
All in all, Shroud uses an Alienware AW2721D 27" monitor.
This is hands-down one of the best monitors that you could get your hands on as a gamer.
It's sharp, accurate, and comes with plenty of features that can take your gaming to the next level.
These include a 240Hz refresh rate, 1ms response time, NVIDIA G-Sync support, and an adjustable stand.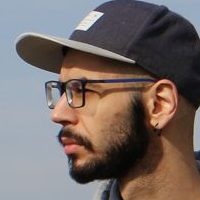 Latest posts by Xander (Editor-in-Chief)
(see all)