Today, we'll be covering a different, more interesting and unique product on the market: open frame computer cases or open PC cases.
This type is a tradeshow staple for the right reasons. These cases are designed to help show off your hardware, rather than hide it inside of a dark, boring and usually-cramped box.
People who are more into designing, troubleshooting, and making their rig more unique dig open pc cases more than any other case types.
Our recommendation for the best value open PC case would be the Thermaltake Core P1.
We'll look at several other options that are popular with a reason.
The advantages of open air PC cases are often weighed down by the however. Things such as dust, hair and liquid spillage (if a beverage is nearby) are all major factors to consider.
These things, if handled probably, should never be an issue though. Plus, these cases look kickass. Let's see which ones are the best.
The holy grail for custom water-cooling.
Additional panels for mounting radiators, reservoirs and pumps.
Makes your build look like
a supercar.
Amazing machined panels, automotive paint job and GPU riser.
Great design that comes in at a wonderful price.
It's Mini ITX, which is a form factor that you don't really see much of.
To help differentiate Open Frame computer cases from traditional cases, we'll need to note a detail or two. Open Air PC cases are often (but not always) vertical frames which utilize glass, acrylic or other, similar materials to display your hardware.
The case is never fully enclosed, and often-times the hardware is entirely exposed to the elements, sans for a small panel on the side.
Best Open-Frame Case - An Overview
You can find our reviews of best open computer cases just below the table.
 
 
 
 

Thermaltake Core P3

Motherboard Support: 280mm / 450mm
Max GPU Length: 180mm
Max CPU Cooler Height: Micro ATX / Mini-ITX / ATX
Front I/O: 2 x USB 3.0 / 2 x USB 2.0 Audio in/out
Expansion Slots: 8
3.5" Mounts: 4
2.5" Mounts: 5

Check Price on Amazon.com

Thermaltake Core P5

Motherboard Support: 280mm / 570mm
Max GPU Length: 180mm
Max CPU Cooler Height: Micro ATX / Mini-ITX / ATX
Front I/O: 2 x USB 3.0 / 2 x USB 2.0 Audio in/out
Expansion Slots: 8
3.5" Mounts: 4
2.5" Mounts: 4

Check Price on Amazon.com

COUGAR Conquer

Motherboard Support: 350mm
Max GPU Length: 190mm
Max CPU Cooler Height: Micro ATX / Mini-ITX / ATX
Front I/O: 2 x USB 3.0 / Audio in/out
Expansion Slots: 7
3.5" Mounts: 3
2.5" Mounts: 4

Check Price on Amazon.com
Pros
Clean, simple design and construction.
Vertical mount for GPU display.
Excellent custom water-cooling support.
Cons
GPU riser sold separately.
The Thermaltake Core series of Open PC cases more or less dominate the market. As a matter of fact, there will be more than one Thermaltake series that will be brought up for this open case list.
This variant, tagged as one of the simplest versions, has several price points, several colors to choose from. It also has a handful of customization and opens when it comes to things like chassis materials, window materials, overall construction and more.
The P3 is an excellent starting point for those looking to get into the Open Frame game without breaking the bank. It is reliable, easy to deal with, and offers a competitive price in comparison to its tempered glass case counterparts.
The vertical riser for the GPU is a nice addition to this open computer case and will help to display your graphical horsepower in all its glory.
Pros
Professionally-machined.
Excellent build quality.
Sharp, premium design.
Tempered glass window.
Cons
The Conquer by COUGAR is a mean, aggressive and sharp Open PC case. The corners are pronounced, the design is confrontational and the entire thing makes you want to stare.
Heck, even the COUGAR badge on the front of the case is made to resemble Lamborghini, who is known for the same traits in their supercars. If you're looking to make your build look like a supercar, you can't go wrong with the Conquer Open Air PC case.
The machined panels, the automotive paint job, the GPU riser, the presentation… It's all there, and it's amazing and impressive to show off your hardware.
Be prepared to spend a pretty penny on it, however, as it doubles the price of many open PC case available in the market. But hey, it looks cool!
Pros
Additional panels versus P3.
Tempered glass.
Cleaner interior wall, and design.
Cons
Again, it wouldn't be an Open PC case list without multiple Thermaltake Core cases.
That's for a very good reason, too: they have Open Frame PC case options at everywhere from $90 to $250. Stepping things up to the max, we have the Core P5 Tempered Glass edition.
The mounting wall has been cleaned up and organized, there's now tempered glass involved, and you're getting a few more panels out of the box. Specifically, one for the front and one for the top.
These panels should have alleviated much of your spillage and dust concerns, but of course, your mileage is going to vary widely.
This open computer case is excellently-crafted with an excellent design, sturdy feet, great glass and an overall great design not unlike the P3.
Pros
Easy Installation.
Open air case with handles.
Reliable water cooling.
Cons
Cable management.
Bigger than any test benches so it may take up more space.
Who says test benches are plain and inferior than the tradeshow level builds, design wise? This piece of Open Frame PC case satisfactorily provides what test benches should offer while not slacking off on aesthetics and practicality.
If you are a person who loves completely open setup, easy-to-deal-with parts, offers considerable cable management system (for an open test bench that is), and with reliable water cooling capabilities, this one's for you. Moreover, this open frame computer case comes in twenty different color combinations which is a huge plus!
It is beautifully packed in an easy-to-carry box, complete with instruction manual and is surprisingly easy to set up as it includes labels for screws and panels. In terms of practicality, you can easily access and swap out hardware and it supports Micro ATX, MATX, ATX, and E-ATX motherboards.
All in all, whether you're into benchmarking, you're working in a shop and troubleshooting customer hardware, or perhaps you're using it for your daily driver, this is a one fine test bench.
Pros
Tempered Glass panel.
Mini ITX form factor.
Affordable.
Cons
The P1 comes in our list as a unique Open PC case product. Not only is It a niche Open Frame computer case, but it's also Mini ITX, which is a form factor that you don't really see much of.
At least, not in regards to unique cases. There's very little to be said here that hasn't already been said about its bigger brothers.
It's an excellent frame, it's got a great design, and this one especially comes in at a wonderful price when compared to other tempered glass Mini ITX open air PC cases. If you're looking into the P3 or P5 but you feel you need a smaller footprint for your build, look no further!
Pros
The holy grail for custom water-cooling.
Cons
Expensive.
Massive and will definitely take up lots of space.
Ah, the P7 from Thermaltake's Core lineup. This open computer case… well, it harkens back to times of gone when computers would consume entire floors of buildings.
This Open Frame PC case is massive and you would need to dedicate a considerable amount of space for it. Essentially, this is a Core P5 which is flanked on either side by two additional… walls, almost.
These additional panels are to be used for mounting water-cooling hardware, like radiators, reservoirs, and pumps. The walls are filtered to allow airflow and roughly double tie overall width of the chassis.
This model is like the perfect candidate to be mounted on the wall, but unfortunately, by doing so, you'd suffocate the additional panels for air if you mount anything onto them.
Pros
Lightweight.
Good starter case.
Quiet fans.
Good cable management.
Cons
Plastic window.
No replacement parts.
Modern-looking, sleek and lightweight, this PC case is one of the best starter cases you can find. It is also affordable and will give inexperienced PC builders less problems when it comes to cable management.
Consequently, this white PC case has just the right size, not too big nor too small. You will also be surprised that despite its size, this PC frame comes with a cooling fan. However, for more effective and efficient cable management, this open-frame PC calls for a modular power supply.
The only problem you can encounter for this item is the plastic transparent window which is more susceptible to scratches and damages because of its quality. But all in all, the white PC open frame case will do well on your first PC DIY build.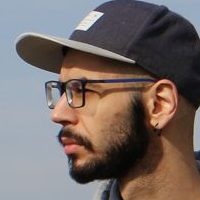 Latest posts by Xander (Editor-in-Chief)
(see all)