We (ultimategamechair.com) are your absolute and ultimate resource in gaming chair tech. We provide independent reviews of the latest gaming chairs, best opinions based on user preferences, and intend to be your shopping guide to the good and bad in various chairs so that you can make the best decision that fits you.
First and foremost, we can state emphatically and honestly that no company ever pays us for a good review of their Product. We are not on anyone's payroll to promote their chairs above any other gaming chairs. We are here to let the dedicated gamer know what the best gaming chairs offer and what new accessories are coming down the pipe that will enhance your gaming experience.
A comfortable gaming chair is a must-have if gaming is one of your hobbies or favorite ways to spend your free time. You probably spend several hours every day in front of your PC or game station. If you play on an uncomfortable seat, you will keep pausing for a stretch every five minutes or so. You may suffer severe back pains if you sit on your couch for long hours because couches are not designed for gaming. Get the right gaming seat to protect your back and neck from such pains.
Many gamers are willing to spend any amount of money for the best gaming system but are reluctant to spend as much for gaming chairs. Some are unaware of the gaming solutions in the market. The right gaming chair is worth every penny. You will not understand how sitting on the right gaming chair improves your gaming experience until you sit on one. Our aim is to help you select the best gaming chair that suits your needs.
If you have never bought a gaming chair or need to upgrade your chair, you have come to the right place. We do not sell gaming chairs but list the best chairs in the market to help you identify the best chair fast. Marketing messages and promises from manufacturers may confuse a new buyer. We review the manufacturer's specifications and consider other customers' experiences when recommending gaming chairs and accessories to potential clients.
[comparison]
Gaming Amenities
 Many of the chairs have built-in speakers but may also feature foldable arms or subwoofers as well. Some chairs are made solely for racing games and come with a race wheel mount and racing pedals. Other features might include a wireless feature or a stain-resistant fabric and comfortable cushioning.
 Complementary Accessories
 The chairs also are utilized with LCD and Plasma flatscreen TVs as well as a variety of stereo systems, including VHS, BETA, CD players and DVD. Gaming consoles, such as Nintendo, PlayStation, XBOX and 3DS, also complement the furnishing.
 Styles
 styles include rockers, bean bags, desk chairs, gyroscopic chairs and chairs with stands. Regardless of the chair's style, the seating can be used with various kinds of computers, including iPads, tablets, notebooks, laptops, netbooks and MACs and PCs.
Seven Factors to Consider when Buying a Gaming Chair
When you are consider purchasing one, you need to make a decision that will support a number of criteria.
(1) What is the sole purpose of the chair? Will you be using it for racing or flight simulation? Or do you plan to purchase it to play a number of games as well as for other uses, such as listening to music or watching videos?
(2) Check out the padding that is used in the seat's design. Will it be sufficiently comfortable? How about the foam used for the chair? Is it made out of a high-quality, fire-retardant material?
(3) If you are buying a chair for your kids, is the seating safe? Will the chair encourage good posture and muscle training and development?
(4) Will you need batteries for the chair? If so, what type of batteries?
(5) What is the weight of the chair? Will it be too bulky for your needs? Or, will it fit in perfectly with your other furnishings?
(6) How about the chair's color? Make sure you won't tire of the chair's hue and choose a color that can be nicely if not neutrally incorporated into your décor.
(7) What is the gaming chair's capacity? How much weight can the seating hold?
8. What are the dimensions of the chair? Will the seat fit in your gaming area or office? Consider a gaming chair that fits in your gaming area and leaves enough space for you to move around. Most manufacturers specify the dimensions of each chair.
9. Is the seat comfortable? The main reason for buying a gaming chair is comfort when playing your favorite games. Check if the chair offers maximum support for your back and neck. Chairs with adjustable backrest and footrests are recommended.
10. Are you getting value for your money? Gaming chairs have different features to suit different gaming needs. You may not need all the features in some gaming chairs. Do not spend money on features that you will not need. Consider the features that suit your favorite games when selecting a gaming chair.
11. What material is the chair made of? Are the materials used easy to clean and maintain? Will you require any cleaning agents to keep your seat clean? Are the materials durable?
12. What is the cost of the gaming chair? While cost should be among your last considerations when buying a gaming chair, go a chair within your budget. You can find comfortable gaming chairs with basic features at affordable prices.
Is the chair featured at a price that provides the best value for your dollar? Answer the aforementioned questions to make a decision.
A Dream Chair Design
A "dream" gaming chair should provide excellent audio sound and should be one that can be connected with all media boxes, including Xbox, PlayStation, DVD players, Wii or iPod. Make sure the chair is made with a hardwood or durable frame that is cushioned with fire-retardant foam. The seating should be covered with a leather or vinyl for added looks and appeal.
Check Out the Arm Rests
Arm rests on the chair should make seating comfortable too. Gaming chairs that are around 30 to 40 pounds and come with a transmitter and batteries are popular selections among today's gaming consumer.
Affordable Seating is Available Online
While several of the above-described chairs run into the thousands of dollars, you can also obtain a chair for well under that amount. On Amazon.com and other retail sites, you can find many styles of chairs that range from a mere $120. So, if you are a gaming enthusiast, you can easily find a chair that meets with your particular gaming and seating requirements.
Begin by Selecting a Lower Priced Chair – Then Make an Upgrade
You might start off with a lower-priced chair to acclimate yourself to the seating, then move onto a pricier chair with more amenities in the future. That way, you can become accustomed to making full use of such a furnishing. If you have not bought a chair before, it might be better to opt for this approach. Don't start out with a gaming chair with all the so-called bells and whistles until you adapt yourself to seating that is more basic in design.
Get Up Off of the Couch
Gaming chairs are available for every taste or lifestyle. Why settle for gaming via the couch when you can gain a full-fledged experience with a reliable and comfortable chair? So, get up off the couch and start making the most of your gaming experience as well as the space in your house. Check out all the great styles of gaming chairs online.
Our recommendations – Top 5 Gaming Chairs :
1. X Rocker Pro Series Pedestal 2.1 51396 , Wireless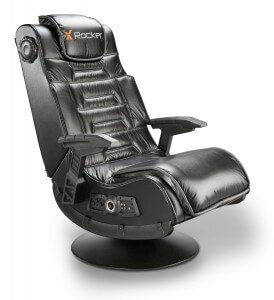 Another in a long line of gaming chairs made by X Rocker, the 51396 Pro Series represents a continuation of the quality, thoughtfulness, and usability that have made other chairs by this manufacturer so popular. The X Rocker 51396 Pro Series provides an ergonomic design that works incredibly well for a range of heights and sizes. The built-in radio wireless receiver comes with a wireless transmitter that can work with any source around the house. RCA stereo outputs and optional RCA cables are also included. Included in the chair are two speakers as well as a subwoofer that utilize 2.1 AFM technology to create a truly immersive sound experience. Along with the ability to connect multiple chairs, the X Rocker 51396 separates itself from the crowd by being excellent at watching TV on, reading, listening to music, and of course playing computer games.
2. Cohesion XP 2.1 Gaming Chair with Audio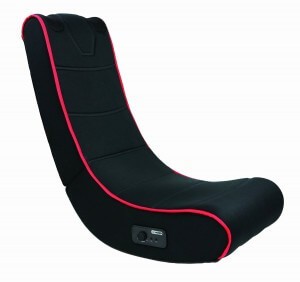 Cohesion offers supreme comfort, coupled with a definitive, immersive gaming experience. The Cohesion XP 2.1 Gaming Chair with Audio is ideal for any room of the house, and emphasizes a chair that is both lightweight and comfortable. Cohesion XP 2.1 features 2 wired receiver audio speakers, volume control, and in-and-out headphone jacks. This chair is built for long, intensive gaming sessions. If you're the kind of person who plans to sit and play for a considerable stretch of time, you're going to love how easy this chair makes things for you. The audio quality for the Cohesion is definitely impressive, as well, offering full, rich sound.
3. DX Racer FD01/NE Racing Bucket Seat Office Chair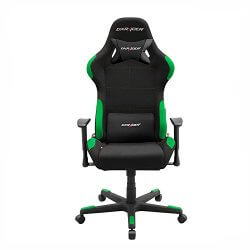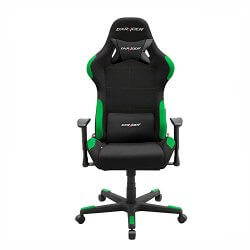 From DX Racer, the FD01/NE Racing Bucket Seat Office Chair looks to continue the trend of affordable luxury in the realm of gaming, watching TV, and even while working.  It's slick design and low comparable cost makes it instantly recognizable.  Having learned from previous models, the DX Racer FD01/NE is more comfortable and efficient with space, creating a lightweight and free looking design.  An extended backrest is included to help cushion your neck and spine while special soft armrests help to protect wrists and shoulders.  Coming in a number of color options and usable in countless situations, the DX Racer FD01/NE is sure to help you not only relax in your activity but to also enhance the overall experience.  Universal casters, adjustable seat flexibility, lifetime warranty on frame, integrated head rest, and tilt mechanism name the many features that are seamlessly integrated into this chair.
4. X Rocker Pulse 2.1 51498 Sound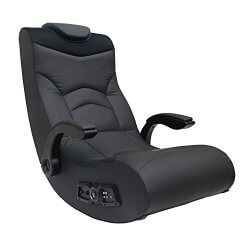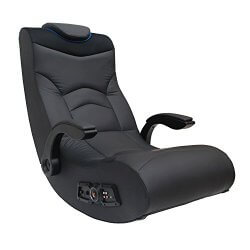 As with many X Rocker chairs, the 51498 Pulse 2.1 Sound Gaming Chair takes the idea of comfort and luxury and adds a twist that makes it all better.  Placed on the ground, the rocker seat holds itself in place and eliminates the risk of falling backward through its design.  Built into the X Rocker 51498 are two speakers as well as subwoofer.  These expand your emersion by making the game come to life as you are placed right into the heart of the action.  The RCA outputs allow you to play music from any source with 2.1 sound immersion.  Along with bring better music quality directly to you the X Rocker 51498 is incredibly comfortable with its padded headrest and ergonomic design.  All together, you are left with a chair that is fantastic for games, great for listening to music through, and comfortable for watching TV, reading, or relaxing.
5. X Rocker Surge Bluetooth 2.1 5172601, Black With Red Piping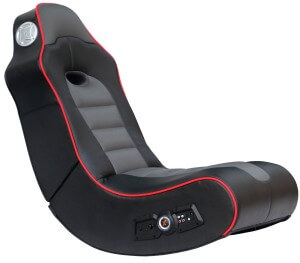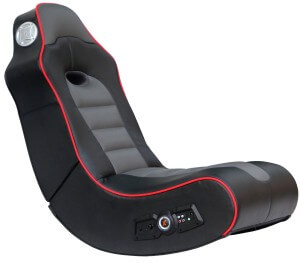 The X Rocker 5172601 is an updated model designed to improve on early rockers released by this company.  The simple rocker design and coloring makes the X Rocker 5172601 stylish while its ergonomic design with backrest helps to make it comfortable for long hours of gaming.  As with many X Rocker chairs, the 5172601 comes with two speakers as well as a subwoofer offering 2.1 sound quality and an overall immersive experience.  Included and built into the chair are separate controls for the volume, allowing unseen customizability in audio quality and the ability to change the overall volume and base.  Unlike other chairs on the market, the X Rocker 5172601 stands apart with its built-in Bluetooth reader, making it simple to connect with other Bluetooth devices.  Along with everything already said, an additional RCA cable is provided.  Whether you decide to game, read, or watch movies, the X Rocker 5172601 improves the experience and provides excellent comfort.
6. Arozzi Enzo series gaming chair style swivel chair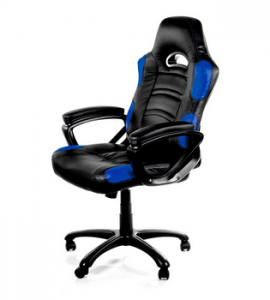 The Arozzi Enzo gaming chair is a unique combination of sleek comfort, style, and great looks. It has an ergonomic design that gives you the right posture when playing your favorite games or watching your favorite sport. You can easily transition from work to playing video games on your PC with this gaming chair. It has a 360 degree swivel and an adjustable gas spring. Its light weight (37.5 pounds) makes it easy to move the chair from one location to another.
The Arozzi Enzo gaming chair has thick padding on its back rest, seat and arm rest that gives your maximum comfort for extended gaming hours. You do not have to worry about cleaning the swivel chair. It is made of UP leather that is not only comfortable to sit on but also easy to clean and maintain. You can tilt the seat for more comfort and use its lock function for stability. The lock function works in its upright position.
The swivel chair has five high strength nylon wheels that guarantee your stability and safety even in intense gaming moments. The chair comes in black and blue colors. The unique features, sleek comfort, warranty, cool colors, and considerably low price make the Arozzi Enzo gaming chair a best seller.
7. Turismo Racing Cagliari Series Gaming Chair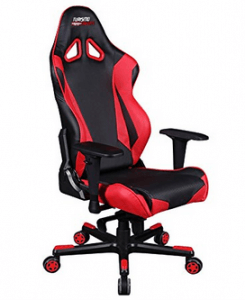 The Cagliari by Turismo Racing is a patented racing seat built to keep you comfortable for more than eight hours of intense gaming. It has an ergonomic design with extra foam padding on its seat and backrest for maximum support and comfort. The Cagliari is your best choice for extended gaming hours. It has a high straight backrest with an in-built angle adjuster. A high backrest allows you to rest your neck and support your spinal cord. This feature is rare in many office and gaming chairs. The Cagliari has adjustable armrests that protect you from kyphosis and ensure that you do not hurt your shoulders while working or playing. Its wide pad enables you to use the mouse for long hours without hurting your arm.
Additional features that make the Cagliari popular include an integrated headrest pillow, footrests in its Aluminium base, unique tilt mechanism, and lumbar cushioning. You can adjust this gaming chair to suit your desk or gaming station. Turismo Racing guarantees the safety of its client by with a star shaped iron base. The strong base enables you to move the seat safely around your home or office. In addition, you get a 24 month warranty on all parts and a lifetime warranty on the chair's frame. The red and black Cagliari is a rare representation of modern design, maximum support, comfort, stability.
Conclusion
You can have a different gaming experience today by buying the best gaming chair. Gaming chairs differ in their features, accessories, and designs. Some are built for specific games such as racing and video games while some can be used for all types of games. You can choose from bean bags, rockers, gyroscopic and desk chairs among other designs. In this comprehensive buying guide, we have outlined the most important factors to consider when selecting a gaming chair. Consider the comfort, purpose, weight, color and capacity of the gaming chair among other factors when selecting one. We have recommended a few of the best gaming chairs in the market to give you a head start. Now it is time for you to get off your couch and get the best gaming chair for a new gaming experience.
( updated on 20/04/2016)