One important note about PC gaming chairs: if you sit at a desk for an extended period of time, style takes a backseat to back support. Some of the these higher-end chair might not look as nice as the console chairs, but you don't need storage space or built in speakers as much if you have a good PC setup. The money you drop on a PC gaming chair needs to be on good ergonomics.
DXRacer Drifting Series DOH/DF73/NW Newedge Edition: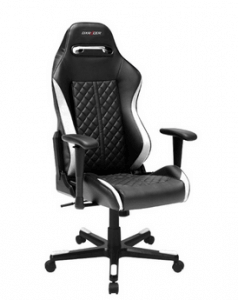 DXRacer is the king of cool-looking pc gaming chairs. We saw some of their models for consoles, but these guys kill the pc gaming market. The one we want to highlight you might have already seen with some twitch players. DXRacer likes to sponsor certain gamers to get their products out there.
These chairs have a ton of padding on them and they feel extremely comfortable. This one in particular has a really tall back, so your spine and head have a lot of support. The armrests have wide pads on them so you can position your elbows however you like, and they obviously adjust up and down depending on how you like it. It comes with a lumbar pillow and a small pillow for the headrest, and pretty much everything on this chair is adjustable so you can find the perfect custom fit.
What we liked:
Awesome DXRacer style
Excellent back and head support
Everything adjustable
What we didn't like:
Back support pillow may be difficult to attach
Aeron Task Chair by Herman Miller: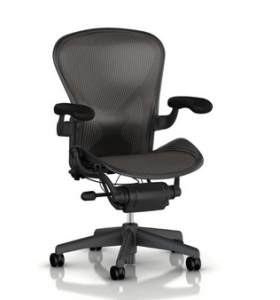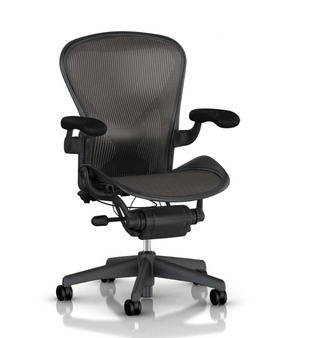 You're the CEO of your room, so why not look like it? This is one of the highest-end chairs you can get, coming in at just under $1000. It may not look as cool as most other chairs we look at, but that's because every dollar that has gone into the design of this chair has gone to comfortability.
You might never sit in a chair that's more ergonomically designed as this one. Herman Miller prides itself in using innovative technology to enhance your experience: "Herman Miller's patented Kinemat® tilt mechanism lets your neck, shoulders, hips, knees, and ankles pivot naturally."
The back and set of this chair is made with a special, breathable material that helps you stay cool no longer how long you sit in it. The seat is designed with high edges on the sides for support, and what Herman Miller calls a "waterfall" edge on front, which follows the natural curvature of your legs for maximum comfortability.
What we liked:
Incredible comfort
Breathable material is really nice
What we didn't like:
Expensive
Ergohuman Me7Erg-W09-01W09-01 Black Mesh Hi Swivel Chair: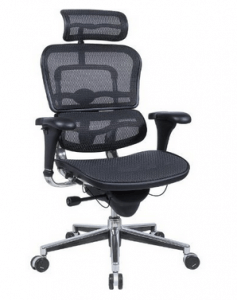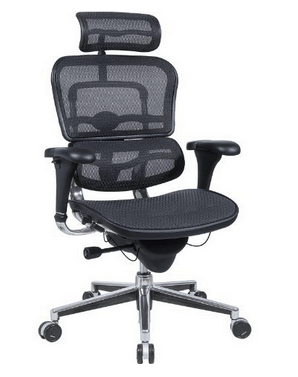 If you're not quite ready to blow $1000 on a chair, this might be a nice alternative. Ergohuman has made a really nice chair for only just over $600. It's made of a similar breathable material as Herman Miller's chair, and it has a ton of adjustable options like the DXRacer.
Another cool feature that you don't see as much with console chairs is that this model comes in a variety of colors: "Black, blue, green, grey, orange and red." You might also be able to find this chair in a local store so you don't have to order it online without trying it out first.
What we liked:
Color options
Cheaper version of high-end chair
What we didn't like:
Might not easily accommodate people who are bigger than average
Mid-Back Black Mesh Swivel Task Chair with Triple Paddle Control: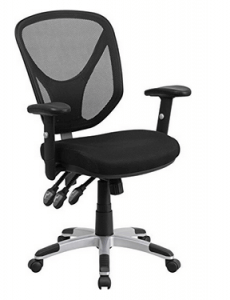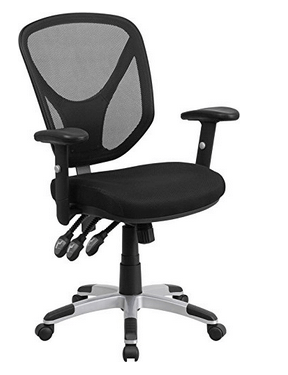 Not every PC gamer has a ton of money, right? So we need some mid- to lower-end chairs to accommodate everyone. This chair, made by Flash Furniture, is a really nice choice. The first thing we noticed is that it comes in a zillion color options, so you'll definitely be able to find one you like.
Obviously this won't have as many features as the more expensive chairs, but it has multiple adjustment options, it's made of a good material, and it has great back support. Those are the most important things in a desk chair anyway, and this one is only about $120 on Amazon.
What we liked:
Tons of color options
Simple style
What we didn't like:
Doesn't "look" like a gaming chair
High Back White Leather Executive Swivel Office Chair with Flip-Up Arms:
Maybe you don't want to spend as much, but you still want a chair that looks the part. This is the chair for you. This one, also made by Flash Furniture, comes in an all white color scheme. It has a high back on it too, which is a nice feature for gamers who will be sitting for the whole night.
If you're not ready to spring for the more expensive chairs, but you still want something that just screams "gamer," you need to at least give this one a try.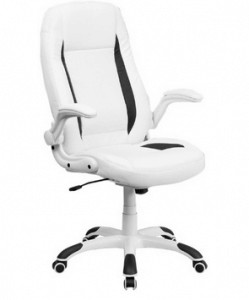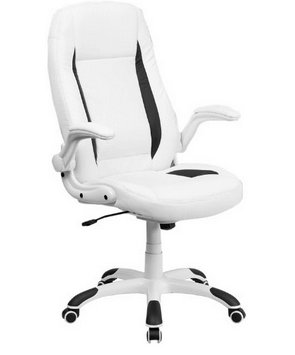 What we liked:
Cool color and style
What we didn't like:
Not as many options for adjustment
   ( Image Source : Amazon.com)