Sometimes you don't need all that and a bag of potato chips. You need something simple; you need something cheap; you need something that's "good enough."
X Rocker makes incredible chairs, but most of them fall into a high price range. Of course the old saying is true (you get what you pay for), if you don't need a lot, why pay a lot? Cohesion is another company that makes decent quality gaming chairs for a much lower price than most of X Rocker's products. You will find an X Rocker that found its way into this list though, proving that X Rocker might actually be able to do it all. You shouldn't expect too much here, but we've taken the time to identify three of the best gaming chairs you can get for less than $100.
Cohesion XP 2.1 Gaming Chair with Audio
Simple. Affordable. This gaming chair will only set you back about $30, but it gives you just enough of a taste of what gaming chairs are supposed to do. After trying this chair, you'll be excited to save up for a more expensive one in the future.
Similar to the X Rocker chairs, this one also comes with two built-in speakers, but these require a wired connection. A volume control panel is on the side, and it also has a headphone input. One potential downside is that this chair requires 6 AA batteries. Battery life might become an issue depending on how much you use it.
We should also note that some have said the speaker quality isn't stellar. Again, this obviously isn't the best product on the market, but for it's incredible low price, it's the best out there.
It sits low to the ground in traditional gaming chair style, and it's made of a durable material. If you want to know what it's like to have a gaming chair but don't want to drop your whole week's paycheck at once, this might be the best option for you. You can check the Complete Review of the Cohesion XP 2.1
What we liked:
Two speakers with volume control panel
Good quality for price
What we didn't like:
Require 6 AA batteries
Cohesion XP 8.1 Gaming Chair with Audio (Black/Grey)
Super similar to the 2.1 version, but this one has slightly more padding. It is also just a bit larger than the 2.1 counterpart, so this might be a good decision for people who are little bigger than average. It has the same two speaker setup with volume control panel and headphone jack. This one also runs on AA batteries.
Some have found this chair to be decent quality, but not the best. In other words, it might not last you forever, but it's good for a cheap chair. However, with not many additional features, if you want a cheap chair, the 2.1 might be the better option, unless a couple extra pads are worth twice the price to you.
What we liked:
Slightly more padding than 2.1
What we didn't like:
Runs on AA batteries
X Rocker 51491 Extreme III 2.0 Gaming Rocker Chair with Audio System
X Rocker quality all the way. This is the most expensive of the three ($90), but it's definitely worth it. X Rocker has a solid company and brand you can trust based on their other products. Just because this one is in a lower price bracket doesn't mean that they have skimped on quality. It's the best you can get for this price.
This one also arguably looks the coolest of the three. It has a cool red streak down the middle a lot like X Rocker's Spider chair, and on the headrest, the word "Extreme" is embroidered. It reminds you of how cool you should feel when sitting in this guy.
It comes with two speakers like the rest, but they face the side (unfortunately) rather than the front. Mesh polyester material with foam padding.
Without spending an exorbitant amount of money, this chair will give you a great experience, or it will make someone love you forever if you buy it as a gift.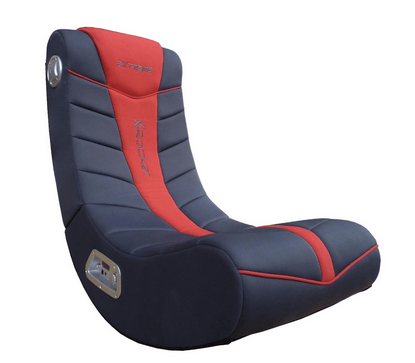 What we liked:
X Rocker branding
Padded headrest
What we didn't like:
Side-facing speakers instead of front-facing
Chair price last checked on march 2018.